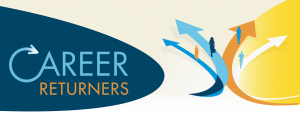 Our guest post is by Michelle Warnock, a participant on the Serendis Career Returners Program. She writes a candid account of returning to her career after a break to raise her four children…
Ten years ago I was a woman with a thriving career.  I had a prestigious corporate role, I loved my job and I was frequently approached by recruiters, hoping to lure me to another position.  I was proud of myself and excited about what I would take on next.  But then I moved with my family to Australia and my career took a backseat to raising my four young children.
Fast forward ten years and I find myself in a very frustrating and extremely humbling situation.   Because, I quickly discovered, when you combine my extensive education with my lack of current work experience it would appear that, as one recruiter put it, "I am unhireable".  I was devastated when I heard this, but I knew that she was right.  I had applied to many positions, many of them below the position in which I started my career.  And no one would hire me.  No one would give me a chance to even meet with them, let alone a chance to prove myself.
And then I heard about the Serendis Career Returners Program.  I applied the second I read their website.  I did a happy dance as soon as I was invited to the workshop day.  I was on cloud nine all week!!  Until today, the morning of the workshop…  I started to second guess myself.  I worried that they hadn't read my resume properly or that they had accidentally invited me instead of someone else. My confidence in myself was clearly lost.
And, added to these overwhelming insecurities was an equally strong sense of guilt.  For this day was also a big day for my youngest child.  Today was his very first school concert.  His class was performing the Gruffalo and he had a speaking role.  And I was missing it.
I arrived this morning with great trepidation and a feeling of complete incompetence.  But my nervousness very quickly changed into hope and, more importantly (and surprisingly), I started to feel confident.  So, how did my feelings of despair change so drastically within 5 hours (including the lunch break)?
Well, that is the beauty of this program.  These women actually understand us.  They understand our insecurities, fears and feelings that we should 'just be grateful' to get any job.  And with this understanding, not only do they help us to realise that this is untrue, but they teach us to discover our own strengths, skills and abilities that, before, we simply could not see the value.
The purpose of this workshop was to get us ready for our interviews.  And yes, I am now definitely ready and prepared to sell myself in an interview.  But I also got so much more out of this.  I met the most amazing group of women that I can now proudly call my friends.  I know that many of them will be lifelong friends as we go through this journey together.  I also discovered that I do have a lot of worth.  A company will be lucky to have me on their team.  I have skills that are impressive and in demand.  And I am proud of me for that.
And as for the failure-of-a-mother part?  Well, my wonderful boyfriend ended up taking the day off work to watch, video and cheer on my youngest.  After dinner, we all cuddled on the couch and watched his video of the Gruffalo play together.  And, as a family, we cheered for the little man each time. (he was so proud and made us watch it over and over again…) Today I learned that I can do this.  Getting back into the workforce, learning to balance the family and career…  I can do this!!  Thanks Serendis for showing me that.
Michelle Warnock is a candidate on the 2017 Serendis Career Returners Program. She has four children, five pets and a boyfriend…. and is relaunching her career.